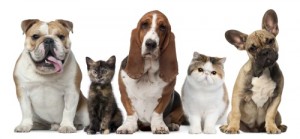 Welcome to Eagle Point Veterinary Clinic with Richardson Veterinary Services!
We are your local veterinary team based out of Eagle Point. We are pleased to provide a wide variety of Large and Small animal services here in the Rogue Valley. We are dedicated to providing excellent medical care with kindness and compassion for all pets, livestock and their owners. We support our animal patients and their families with the latest diagnostic, medical and surgical methods, allowing us to provide complete veterinary care. Contact us at 541-826-2160 with any questions or to schedule an appointment!
At Richardson Veterinary Service we also have a strong commitment to our community, especially our local youth. We provide educational opportunities in addition to supporting our local 4-H and FFA programs.